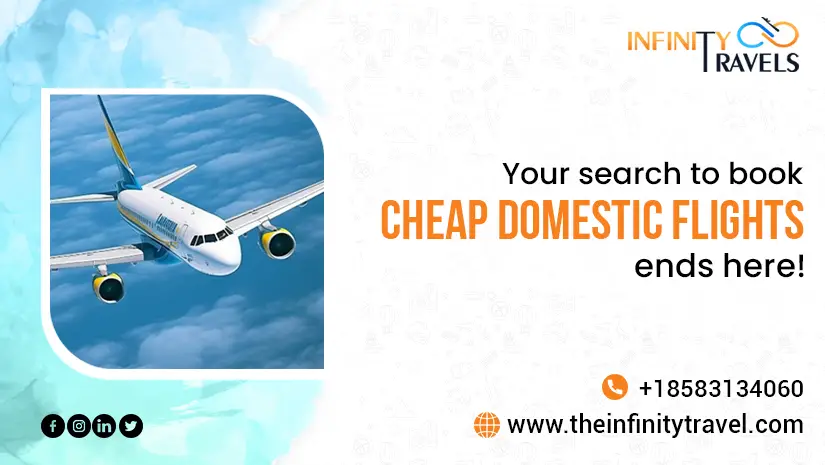 Your search to book cheap domestic flights ends here!
November 4, 2023
In a world where travel is the ultimate adventure, finding an affordable domestic flight can be a game-changer. Whether you're planning a quick weekend getaway, a family vacation, or a business trip, the quest for budget-friendly airfare is a quest that never loses its charm. But guess what? Your thirst to book cheap domestic flights ends right here, right now. In this blog, we'll unravel the secrets to grabbing the best deals and making your travel dreams come true without breaking the bank.
Your Affordable Domestic Flights Await!
In the vast blue canvas of the sky, where dreams take flight and adventures beckon, excitement fills the hearts to explore the unknown. While flying, there's always a thrill that never fades: the joy of discovering cheap business-class flights. If you're one of those wanderer souls forever seeking the thrill of wanderlust, then you've landed in the right place. We'll quench your thirst to find the most affordable wings to your next destination as we're about to unveil the top secrets to unlock unbeatable deals. So, fasten your seatbelts, because we're about to take off on a journey to the world of budget-friendly travel like you've never been before!
Best days to fly with Domestic Flights?
The best days to fly with domestic flights in the United States depend on your specific travel goals. Like – if you want to save most of the money, you should travel on some weekdays. On the other hand, if you want to avoid crowds you can travel on Saturdays. Here are some general guidelines from where you can get an idea of travel days.
1. Weekdays (Tuesday, Wednesday, and Thursday): Generally, flights on these days tend to be less expensive. In the midweek Airlines often offer lower fares to fill planes when demand is lower. You can choose any of the days to fly to your destination. You can also avail of cheap business class tickets on these days. Do not forget to compare prices before booking.
2. Weekends (Saturday): If you prefer traveling when airports are less crowded, Saturday can be a good option. Many business travelers stay home on weekends, so airports are often quieter.
3. Avoid Peak Travel Days: Try to avoid flying on major holidays or during special events, as flights can be more expensive and crowded. On those days business class flight ticket seems costlier than the normal days.
4. Red-Eye Flights: Red-eye flights typically depart at late night and arrive early in the morning. These flights can be less crowded, and you might find better deals. However, be prepared for sleep disruption.
Why do people prefer Business Class Flights?
People prefer business class flights for a variety of reasons, as it offers a more luxurious and comfortable travel experience compared to economy class. Here are some of the key reasons why people choose business class:
ü Enhanced Comfort: Business Class provides more spacious and comfortable seating arrangements compared to Economy Class. Passengers can enjoy larger seats that often recline fully into lie-flat beds, allowing for a restful journey.
ü Priority Services: Business Class travelers spend less time in queues and more time relaxing before the flight. They typically receive priority services in expedited check-in, security screening, and boarding.
ü Superior Amenities: Business Class passengers are offered an array of amenities such as in-flight entertainment options, noise-canceling headphones, amenity kits, high-quality bedding, and fine dining that makes their flight experience more luxurious. You can also get the exotic amenities with the Business Class Flight Booking.
ü Privacy: Many Business Class cabins offer a more private environment, with dividers or individual pods. This allows the passengers to work, sleep, or relax without any disturbances.
ü Quality Service: Passengers in Business Class receive personalized and attentive service from flight attendants throughout the flight.
How to get cheaper tickets for domestic flights?
Though the words 'Business Class' and 'Cheap' are contrary to each other still there's a ray of hope. On some occasions, business-class flight price comes down. Let's have a look at them.
Be Lucky enough for the Mistake Fare:

It happens when the airlines charge significantly less for the ticket than it is worth. On these tickets, you can typically save hundreds of dollars—sometimes even up to 90%.

Utilize the points and miles:

In terms of money outlay, using credit card points or airline miles can be the "cheapest" way to score a business class ticket.

Get an economy ticket, and use points to upgrade:

It's okay if you don't have enough points to book a business class seat. You can also buy a seat in the main economy and then use your points to upgrade if there are award seats available on the flight. Through this, you can get cheap business-class tickets to your dream destinations.


Why Infinity Travels?
You can book cheap flights seamlessly with Infinity Travels. We'll find the best flight deals for you that won't strain your pocket. Not only that, but we also have an expert team to curate your personalized itinerary. For more information connect with us now at +1-858-313-4060.
Conclusion: As we are about to lower our landing gear, we hope your search for cheap domestic flights has found its perfect destination right here. Remember, your adventures should be limitless, just like the skies are. So, whenever the travel bug bites, don't forget to return to Infinity Travels. Just one click and you are at your destination. Happy journey, to this budget-savvy traveler!