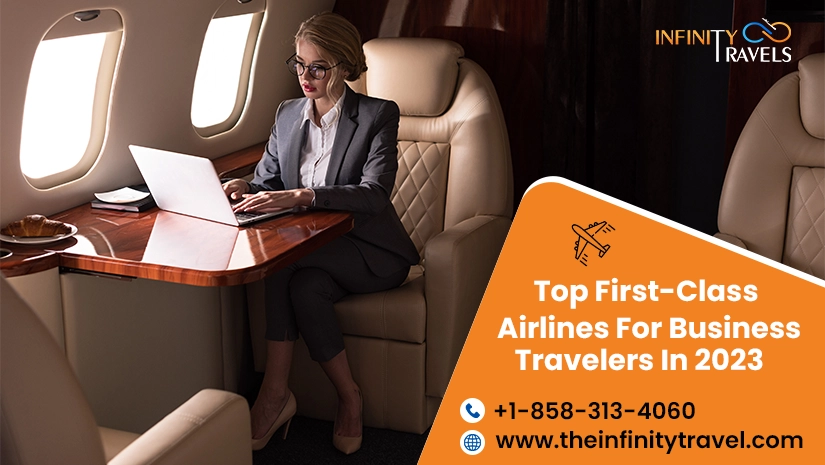 Top First-Class Airlines For Business Travelers In 2023
July 25, 2023
All business travelers want to experience an opportunity to feel luxurious on their flights. These first-class airlines in the world are going to make you twirl up your royalty mode while flying for business demands. From the very second of your entry into the airport, you'll be having the exceptional treatment that you are waiting for so long.
First-class cabins provide an exclusive private space. With fully reclining seats you can rest and relax during the long flight hours. Some offer private suites with ultimate privacy and seclusion. Many airlines offer check-in counters and priority boarding for first-class passengers, to avoid the long queues. These things can significantly enhance your traveling experience, by reducing stress.
Here are a few Exceptional First-Class Airline Services
The experience on first-class flights is an attractive thing for many business travelers. Such special treatments can also be accessed with low fares on first-class tickets. Gourmet meals cooked with the special hands of well-known chefs and an extensive menu with multiple courses, along with international blends of wine and champagne are the impeccable service provided by the onboard staff. Entertainment options such as large high-definition screens, noise-canceling headphones, and a vast variety of movies, shows, and games with unlimited Wi-Fi are the main attractions. Then what are you waiting for?
You can easily have access to the best first-class flights at the lowest range from Infinity Travels, it's the best site for first-class Airlines. Let us give you a selected list of the top first-class airline services so you can book your tickets from;
Emirates Airlines
Emirates Airline flight is one of the massive flying aircraft that carries millions of customers across the world. This airline is the world's best first-class Airline in 2023 that has never disappointed its passengers when it's to customer service. With cheap flight tickets, we can fly away like a bird to our dream places without any budget stress.
This is the best airline for flying first class as it provides direct boarding from a personal lounge. Their premium lounge with free Wi-Fi, luxurious bathrooms, and a free buffet is the ultimate royalty. Who will not love to fly in first class?
Get ready for the special treatment. Provided with bars and floral arrangements an unlimited buffet and warm scented towels are the special treatment of the Emirates Airline booking. Reclined seats and leg rest at your comfort to have a better sleep. This is the best airline for flying First class as preferred by the passengers of business travels.
Etihad Airways
This is the most popular and lavish flight service which is extremely uncommon among the other airlines. of airlines. Could you imagine? Over the years, the company has been delivering exemplary customer service.
Etihad Airlines offers a varied range of services that encourage customers to travel luxuriously to their dream holiday destinations. When it comes to Etihad Airlines first-class ticket services have minimal competition the along with the unparallel level of airport services. If you want to plan a luxurious business trip, then Infinity Travels will assist you to get low fares on first-class tickets.
Singapore Airlines
Singapore Airlines is the first-class experience that divides the aircraft into Suites and first classes. Here are the most important details you need to know before booking Singapore Airlines First Class Tickets. Flyers with first-class status can carry an additional bag or two additional weights. Suites and first-class flyers have access to their boarding lanes. Suites or seats consist of a private room, a luxury recliner bed, and a door for special privacies. Private lounges are not just typical busy Priority Pass lounges that have a wide range of world dishes and special meals.
Air Canada
It is mainly the best airline in North America. This airline not only gives a complimentary service but also brings a comfortable onboard experience. In the Air Canada First Class tickets, each of the travelers gets the luxurious opportunity to convert the seats into flat beds with pillows and quilted mattresses. Air Canada provides prioritized boarding services to their first-class or Signature Class passengers.
Spirit Airlines
Finally coming to our last but not least airline service took the list ahead with its low-cost carrier facility. They make air travel far more affordable for frequent wanderers. This airline is a low-cost Airline facility with great first-class services for not only those who fly them but also on routes who want to fly like a bird. It doesn't have any separate first-class division rather it has a 'Big Flat Seat facility' for First class passengers with wide legroom.
Before the pandemic era, Spirit Airlines First class tickets giving access to the Big Front Seat was one of the worthiest deals in travel. Now its not as many competitive first-class airline services have come up with its best first-class services. It's not a separate cabin. It gives dominance due to its low-cost procedure to make its customer free from budget stress.
Avail Infinity Travel Services For Etihad Airways Special Deals
If you are interested in booking cheap first-class flight tickets, then Infinity Travels is your ultimate destination. We have been offering top-notch flight booking services at affordable prices to people who want to reach their dream international destinations. To get the discounted best deals make sure to call us here at +1-858-313-4060.
Conclusion
Business travelers always have frequent tours for official occasions. Here we have provided you with a few of the best business traveling First class flight booking options of varied price ranges. Booking cheap first-class flights for trips is assuredly possible with proper planning. So now what are you waiting for? Everything is just waiting up on a single click for updates on the ticket availabilities according to your preferences.