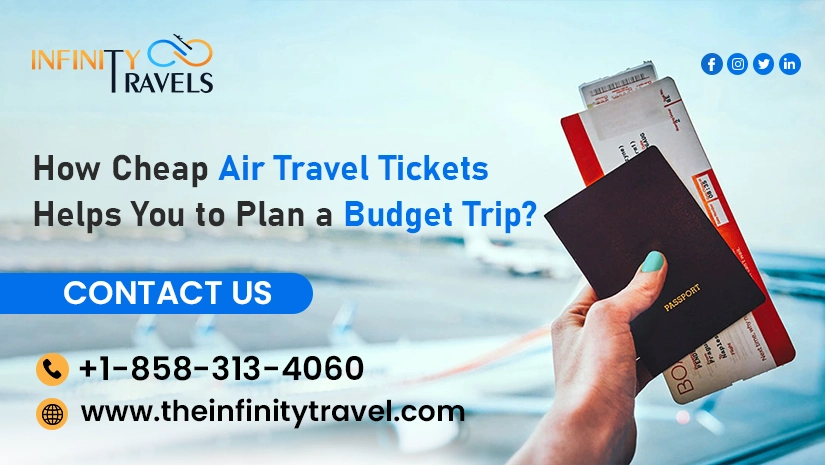 How Cheap Air Travel Tickets Helps You to Plan a Budget Trip?
August 8, 2023
In today's fast-paced world, travel has become an integral part of our lives, offering incredible experiences and unforgettable memories. However, for many the interest in traveling is often compromised by budget limitations. Fortunately, with the introduction of cheap air travel tickets and Infinity Travels, exploring the world on a budget has never been more achievable.
What is the Importance of Cheap Air Tickets?
Let's find out how cheap flight tickets can help you plan a budget-friendly trip with the assistance of Infinity Travels.
Infinity Travels being a leading travel agency has years of experience in offering cheap air travel tickets for top flights. With access to a vast network of airlines and travel partners, we have been able to provide the best deals on airfare. Whether it's early bird discounts, last minute offers, or seasonal promotions, Infinity Travels is exceptional at finding cost-effective air travel options as per your budgetary requirements. We offer big discounts on international air travel to provide you with an opportunity to easily travel to foreign locations with extra comfort and luxury.
Flexibility for Affordable Dates
Flexibility in travel dates can significantly impact the cost of airfare. Infinity Travels understands this and helps you to find the most affordable travel dates within your preferred time frame. By considering alternate departure and return dates, you can save decent amount of money on flight expenses. This flexibility in planning allows you to explore the world without putting extra burden on your expenditure and it also provides you an opportunity to enjoy the entire trip.
Budget Airlines and Hidden Gems
The executives at Infinity Travels have comprehensive knowledge of airline ticket booking services of various budget airlines and lesser-known carriers that offer cost-friendly flight options. While some travelers may be hesitant of choosing these airlines, Infinity Travels ensures that our partner airlines maintain high safety and service standards to deliver value for your money without compromising on comfort. You will find flights to your favorite destinations at highly-affordable rates that will empower you to travel with the family on vacations.
Utilizing Layovers and Stopovers
Cheap airfare deals often involve layovers or stopovers. These can be a blessing in disguise, as they provide an opportunity to explore additional destinations at minimal or no extra cost. Infinity Travels can design itineraries that include layovers in desirable locations making your budget trip the best multi-destination experience.
Package Deals and Inclusive Offers
Infinity Travels goes the extra mile in providing all-inclusive packages and last-minute flight deals, bundling flights, accommodations, and activities together. These package deals often come at discounted rates allowing you to increase your budget further. By using these offers you can save time and money while enjoying a seamless and stress-free vacation. You can book packages that suit your budget requirements without compromising your travel expectations.
Everyone is not open to a particular type of flight ticket and we recognize this and design personalized itineraries to suit your budget and preferences. By understanding your interests and requirements, our travel executives design itineraries that satisfy your budget limitations. From budget-friendly accommodations to affordable dining options and free attractions, every aspect of your trip is perfectly planned to minimize your spending. You can also customize your packages to fulfill your dream to travel abroad with your family and create memories that will remain with you forever.
Expert Advice and Money-Saving Tips
Beyond finding discounted airline fares, Infinity Travels has experience in offering expert advice and money-saving tips. Our experienced travel executives can guide you on how to make the most of your budget while exploring your dream destination. Whether it's suggesting free attractions, local cuisines or economical transport options their ideas can enhance your budget trip from good to extraordinary.
Conclusion
The dream of undertaking a budget-friendly journey is no longer a distant reality. With the expertise of Infinity Travels and the availability of bespoke tour packages exploring the world has become accessible to travelers of all financial backgrounds. We ensure that your budget trip is not just affordable but also unforgettable. So, if you wish to discover the world without putting an extra burden on your savings Infinity Travels is the ultimate partner to make your travel dreams come true.